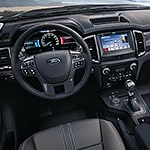 One of the unique features of the 2023 Ranger is its electronic-locking rear differential. This feature provides additional traction and control when driving on slippery or uneven terrain, helping you maintain stability and control even in challenging conditions. The Ranger also features a Terrain Management System that allows you to switch between different drive modes depending on the terrain.
Another unique capability feature of the 2023 Ranger is its Trail Control technology. This innovative feature allows you to set a low speed and let the Ranger's technology take care of the throttle and braking as you navigate off-road terrain. Trail Control makes it easier to manage the Ranger's speed, so you can focus on steering and navigating challenging terrain.
The 2023 Ranger also offers impressive payload and towing capabilities. With a maximum payload capacity of 1,860 pounds and a maximum towing capacity of 7,500 pounds, the Ranger is an excellent choice for hauling heavy loads. The car's bed is also equipped with four standard tie-down points and is available with an optional bed extender and cargo management system.